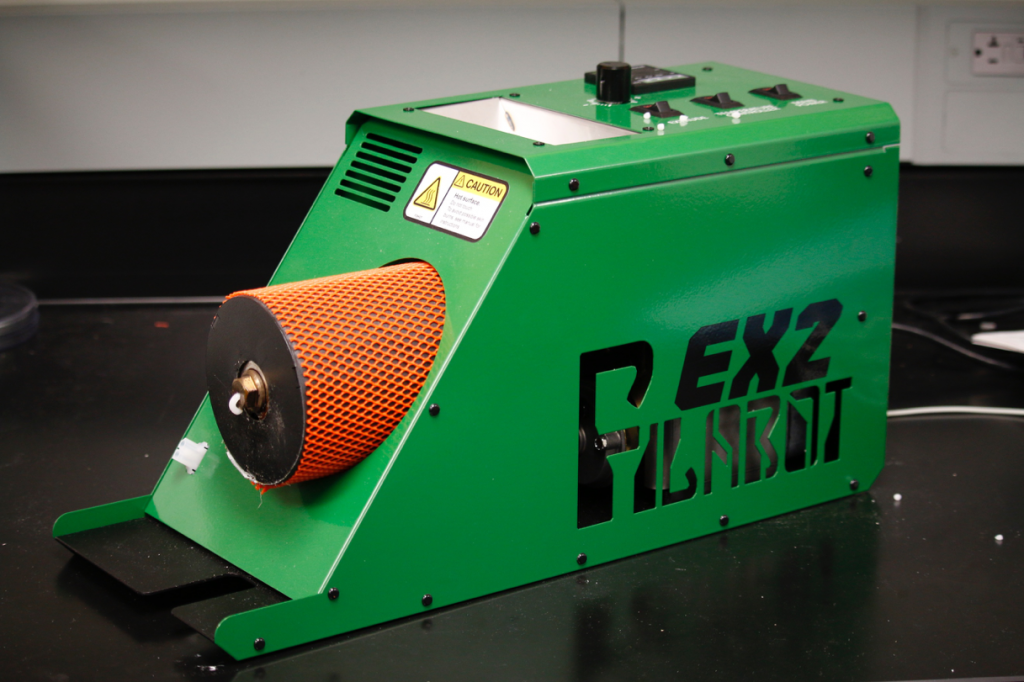 Specs:
The EX2 features a three-stage extrusion screw, designed to pressurize plastics during the extrusion process, assisting in diameter control and boosting the overall output. The mixing capability of the screw applies shear force between the polymer and the barrel wall. The EX2 also features extrusion speed control. The speed control board includes an automatic, variable voltage control module that is engineered to regulate the precise RPM of the screw as forces fluctuate in the extrusion process. When used with the Filabot Spooler, tolerances of +/-0.05 mm can be achieved at a rate of 2 lbs an hour.
Programmable Temperature Controller: room temperature to 450°C
Extrude Rate: 251 ipm, or 2+lbs of filament per hour (4043D PLA @ 1.75mm)
Filament Output: 1.75 mm and 2.85 mm, any other size with custom drilled nozzles
Extrudable Plastic Types: ABS, PLA, PC, HIPS, PP, PS, and ULTEM
Material Input Size: Powder to 1/8in pellets. We recommend that you have no less than 1/4lb of material in the hopper.
Feed Screw Speed: 0 to 35 RPM, fully adjustable speed control
Power Draw: ~500 Watts
Enclosure Size: 18 in by 7 in by 9 in
Contact Emilio for more information (eemilio1@jhu.edu).